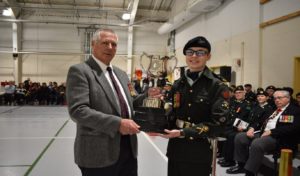 Capt. (Ret) Rick Brown, Vice President of the Army Cadet League of Ontario is seen in photo to the left presenting the prestigious Colonel John H.C Clarry Trophy to Regi-mental Sergeant Major Jonathan Ethier during a special Trooping the Colour parade that took place on 17th November 2018.
2332 Ottawa Army Cadet Corps won Top Large Cadet Corps 2018
2332 Major E.J.G Holland V.C Royal Canadian Army Cadet Corps was  selected as the Top Large Army Cadet Corps in Ontario for 2018 and winner of the Colonel Clarry trophy.  Along with the trophy the Corps also received a cheque in the amount of $1000.
Qualifying Cadet corps in Ontario are judged annually by the Army Cadet League. The winner is based on a point system that accounts for interesting and effective training, attendance, team participation, high retention rate and strength all relative to the size of the Corps community, unit efficiency, and more. On top of been awarded this prestigious award, 2332 has on numerous occasions, and again this year been awarded the Lord Strathcona award for top Large Cadet Corps in the Ottawa/St Lawrence area.