The Army Cadet League Annual General Meeting and Training Seminar held at the Delta Toronto East April 12 to 13, 2019, was a huge success! Approximately 235 were in attendance including League volunteers, CIC Officers and Regional Cadet Support Staff members.
For the fourth year in a row a morning plenary workshop session "Resolving Conundrums at the Corps" was conducted consisting of 4 scenarios played on a large screen. Then attendees were broken into smaller groups to resolve the scenarios. A special thanks to Maj. Paul Preikschas for video taping the scenarios.
In the afternoon the training continued with four excellent facilitators. Charlene Orrell, Board Member and 2nd VP, presented a workshop on the role and responsibilities of Support Committees including how to handle financials. LCol Doré, Commanding Officer for RCSU (Central) and CWO Godbout discussed the successes of the past year and the challenges that remain ahead. Capt. Nicole McKay, Public Affairs Officer, RCSU (Central) & Capt. Ashley Austin, Commanding Officer #329 New Tecumseth, spoke about how to recruit and retain Cadets. Jim McGhie, League Zone Liaison Officer, presented tips on how to be an effective League Liaison Officer.
On the Saturday evening, the members enjoyed a banquet with Belinda Wilson as the guest speaker. Belinda, a long-time member of the Royal Canadian Legion gave a slide presentation on her 2013 Legion Pilgrimage of Remembrance, a 15-day tour through northern France and Belgium, exploring WWI and WWII Canadian battlefields, military cemeteries and memorials entitled "In the Footsteps of Heroes." It was a very moving presentation. Since Belinda was a songwriter and musician, we took advantage of her talents to sing and play us a few songs, some of which she wrote herself. Belinda was presented with a silver coin representing the 75th Anniversary of D-Day.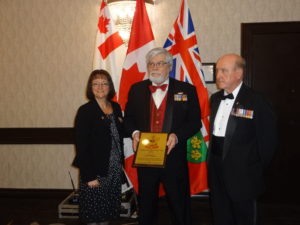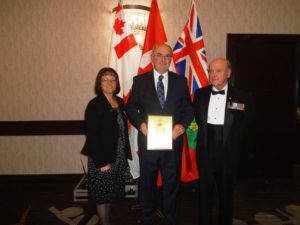 Rick Cunningham and Jim McGhie were both chosen as "League Member of the Year"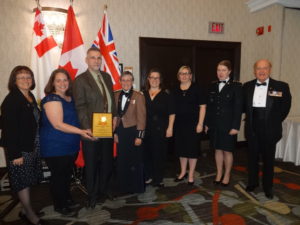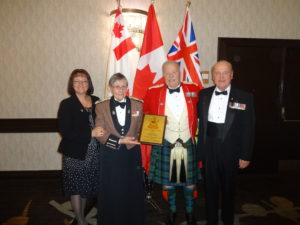 329 New Tecuseh, Top Small Support  Committee of the Year & 1849 Orangeville, Top Large Support Committee of the Year
Awards were presented to Jim McGhie and Rick Cunningham for "League Member of the Year" Two Corps received awards for "Top Support Committee of the Year," #1849 Orangeville for large Corps and #329 New Tecumseth for small Corps. Joe Langlois was presented with the Governor General's Sovereign medal for volunteers and Surjit Basarke who was retiring from the Board was honoured for his many years of service with the Army Cadet League.
The night concluded with an after party in the Hospitality Suite.